Beat It!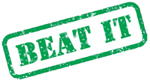 Here at Rallynuts we want your business! So if you've seen products elsewhere and our price is the same or more, fire us the details in the form below and we'll 'Beat It!' for you. There are a few exceptions of course, see below for more details...
Ok so there are some prices we can't necessarily offer our 'Beat It!' offer on, these include products that are discounted, old stock, discontinued items, auction items or items that are non-stock or special order items with the competition.
We will use our discretion to do our very best to serve you with the best possible, delivered price. Try it today, you're under no obligation to buy and we'll be back to you shortly with our best price for you.
Rallynuts Team